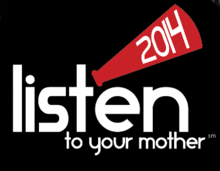 I am honored to announce that I will be part of the 2014 cast of Listen to Your Mother at the RISD Auditorium in Providence, Rhode Island on the evening of May 10, 2014.
If you're not yet acquainted, the Listen to Your Mother Show is a stage show celebrating motherhood in all its forms, with live readings by their authors. The show has grown exponentially since its inception by founder and triple threat Ann Imig, currently taking place in 32 cities around the United States. Listen to Your Mother has garnered national attention by several news outlets, and only seems to be growing.
After auditioning last year and not having been chosen for the show, I was a little trepidatious to pursue it again, but this year's auditions seemed to assail me from behind, leaving little time to think myself out of it. Most of my journey last year, I believe, was to carry out the actual audition. I teared up during my reading, as a release from all the emotion that led me to that room, where my work and physical body had finally become one.
The last time I stood on a lit, functioning stage was during Classical High School's spring production of The Wiz (which was pretty excellent, if I do say so myself) my senior year, and the most recent occasion during which I stood in front of a group to teach, conduct a training, or run a group was 2009. My performances since, sadly, have been limited to a finicky audience of unruly toddlers.
Now here's the meat of this message: I'm petrified.
Truth be told, out there in real life, I can be a bit of a firecracker – outspoken, boisterous, and funny. And though Stephanie-in-Real-Life can hold it down, and the teacher and trainer in me seem to skate right through, Stephanie the Performer has historically had the hardest time gittin' er done.
So, I'm understandably nervous. And also rusty. But undoubtedly up for the challenge.
If you're local (or will be), and would like to join us for what I presume will be an unforgettable evening (or at least to collect on that bet about my tripping across the stage), tickets are $18 each and available here.
I'm proud and honored to join the ranks of those who have come before me, and to be part of the ever-growing network of a production that has resonated with so many.
Look out for more updates (be sure to follow my Facebook page for special features, pictures, and videos), and hope to see you there!